See on Scoop.it – View * Engage * Discuss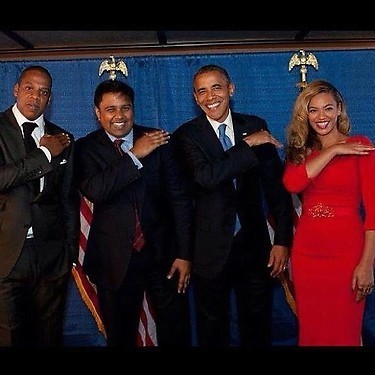 More photos of Jay-Z and Beyonce with President Barack Obama during his fundraiser at the 40/40 Club have surfaced!
Tickets to attend the gala were sold at $40,000, which went toward the President's campaign for re-election. All together, the Prez raised about $4 million – in one night!
Obama gave a great speech, the most quotable part coming when he told the crowd that he and Hov were so much alike:
"We both have daughters and our wives are more popular than we are. So, you know, we've got a little bond there. It's hard but it's okay."
Obama's swag was definitely on a thousand-trillion that night! Check out more pics from the epic affair at the 40/40 Club in our gallery.
Read more: http://globalgrind.com/news/jay-z-beyonce-barack-obama-fundraiser-dust-their-shoulders-off-photos#ixzz275FecnOq
See on globalgrind.com