See on Scoop.it – Small Business Development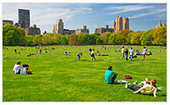 The plan will transform more than six acres of underutilized land on the Lower East Side into vibrant, mixed-use space.
Mayor Bloomberg and City Council Speaker Christine C. Quinn today announced the historic passage of the Seward Park Mixed-Use Development Plan, which will transform more than six acres of underutilized land on the Lower East Side into vibrant, mixed-use space in one of New York's most dynamic, diverse and historic neighborhoods.
Unanimously approved by both the City Council and Manhattan's Community Board 3, the Seward Park Mixed-Use Development Plan grew out of an unprecedented level of grassroots community leadership, consensus building, and partnership with the City. The guidelines for the plan were forged over the past four years, with monthly meetings led by the Community Board, in coordination with a team of representatives from the Bloomberg administration, in order to come to a consensus on this historic plan.
As a result of this extensive collaboration, sites that have largely sat vacant for more than four decades will finally be reintegrated into the vital, urban fabric of the Lower East Side. Located along Delancey and Essex Streets, the nine sites will be transformed into 1.65 million square feet of permanently affordable and market-rate housing, commercial space, and new open space, with the potential for a school and other community space. The development will create approximately 1,000 permanent jobs and 5,000 construction jobs.
"Seward Park has long had the potential to bring new jobs, new housing and new retail options to one of New York City's most vibrant neighborhoods," said Mayor Bloomberg. "Today we know that that potential will be realized. After nearly half a century of sitting dormant, this piece of real estate – some of the most valuable underdeveloped land anywhere – will finally be transformed. Thanks to an historic and unprecedented community planning process, the plan that is moving directly reflects the input of residents, community members and other stakeholders."
"I'm thrilled that with today's Council action, we have allowed for the redevelopment of nine predominantly vacant parcels of city land on the Lower East side of Manhattan," said City Council Speaker Christine C. Quinn. "This project has been more than 45 years in the making, and I thank Council Member Chin for all of her hard work and for negotiating on behalf of the community to get the best deal possible."
The key details of the final approved plan include the following:
* Allows for up to 1.65 million square feet of total development
* Provides for 1,000 units of housing, with 50% of the units permanently affordable for low, moderate, and middle income households, as well as seniors
* Delineates a 60/40 mix of residential and commercial space
* Allocates 15,000 square feet of publicly accessible open space
* Reserves land for a potential new school should it become needed
* Creates approximately 1,000 permanent jobs and 5,000 construction jobs
* Allows for expansion and relocation of the Essex Street Market, to the site on the southeast corner of Delancey and Essex, to accommodate current and new vendors in a more efficient facility, potentially doubling the number of small businesses currently at the market
"Today's vote to approve development on the SPURA site is forty years in the making," Council Member Margaret Chin said. "This is a victory for the Lower East Side and for the City of New York. This development will aid under-housed, low-income individuals in our community by providing significant opportunities for affordable housing both on and off the SPURA site. In addition, it will bring new commercial amenities to a neighborhood that is in need of more daytime foot traffic, tech start-ups, and small business incubators. I am confident that the SPURA development will reinvigorate the surrounding neighborhood while creating much needed affordable housing in our community. I want to thank Mayor Bloomberg, EDC and HPD for listening to the needs of our community and for their continued commitment to working with the Lower East Side community as this process moves forward."
"The Lower East Side Community, along with its elected officials have been working tirelessly toward developing a balanced development plan for SPURA," Gigi Li, Chair, Community Board 3, said. "Today's vote proves that when a variety of stakeholders work together and hold each other accountable, anything is possible."
"Mayor Bloomberg is committed to bringing jobs, private investment and affordable housing to neighborhoods all throughout the City, and the Seward Park Development Plan is the latest example of the Administration's efforts to grow the economy," Deputy Mayor for Economic Development Robert K. Steel said. "This development plan will activate more than six acres of the Lower East Side with housing, commercial space and badly-needed open space that will benefit the surrounding communities for decades to come."
"The approval of the Seward Park redevelopment plan is a major achievement in the history of the Lower East Side and the entire City," said New York City Economic Development Corporation President Seth W. Pinsky. "With this plan, an already vibrant community will be enhanced with the creation of world-class amenities, new job opportunities, and additional economic activity. Congratulations to everyone, in particular the representatives and members of the local community, whose hard work and clear vision have led to this great moment."
"This is an important step forward. We have made the most of this opportunity to work with the community –the residents who will be most affected by this development – to create a comprehensive plan that will benefit New York City for generations to come," said HPD Commissioner Mat Wambua. "It has taken 45 years to get to this point: this is remarkable in and of itself, but more remarkable is that this is a plan for the ages, hammered out by the people. I thank everyone who has had a hand in this, and particularly the planning and development staff at HPD who worked side-by-side with colleagues and community to iron out differences and create this unparalleled opportunity for planned growth and renewal."
"This is a historic day for our Lower East Side community. After a thorough, open and fair process, a true consensus was reached for the future of the Seward Park Urban Renewal Area," said Assembly Speaker Sheldon Silver. "The plan approved by the City Council today is one that is responsive to the needs of all stakeholders and is the culmination of years of hard work and community input. I look forward to seeing this project move forward and to the beginning of a new and exciting chapter in the rich, diverse history of the Lower East Side. I want to commend Council Member Margaret Chin; Councilmember Rosie Mendez; Community Board 3 Chair Gigi Li; former Community Board 3 Chair Dominic Berg, whose tireless work on this issue contributed so much to the success we are celebrating today; and to everyone in our community who made their voices heard."
"Today's approval of the Seward Park Mixed Used Development Plan is not only a great victory for affordable housing advocates, but also a true testament to the power of community based planning. I am pleased that the project will now not only include permanent affordable housing, but has the potential to provide a new public school. It may have taken 45 years, but we finally got it right."
"I applaud this sensible, balanced plan for the future of Manhattan's bustling Lower East Side," said Congress Member Carolyn Maloney. "The proposal includes an appropriate mix of affordable and middle income housing, commercial development, and desperately needed new public open space, and signals a new day for one of our great city's historic neighborhoods."
"The Lower East Side has long been one of our City's most vibrant neighborhoods and this plan will only further improve the area," said Congress Member Nydia Velazquez.
"I'm so glad that after all these years, we've been able to move SPURA forward with a truly community-driven process," said Senator Daniel Squadron. "From new affordable housing that is so critical to the continued vibrancy and diversity of the Lower East Side, to multi-use development that will provide community use and bring new businesses into our neighborhood, we've worked long and hard to reach this point. Councilmember Chin, Speaker Silver, Borough President Stringer, and CB3 deserve great credit for helping make today a reality, and I'd like to personally thank Dominic Pisciotta, David McWater, and the late Mary Spink for their leadership."
Five of the sites included in the plan were acquired as part of a 1965 federal urban renewal plan that called for commercial and housing development, with demolition of the sites beginning in 1967. While portions of the plan were implemented, five sites remained undeveloped and have been used largely for surface parking. Several attempts were made to develop the sites over the years, but proposals ultimately failed to move forward due to lack of consensus on the best use of the sites. The original Seward Park Extension Urban Renewal Plan expired in 2005, 40 years after its adoption. Additionally City-owned sites in the vicinity incorporated into the new plan include the Essex Street Market and related market buildings.
The City will now move forward with a Request for Proposals (RFP) seeking developers for the sites, which is expected to be issued jointly by NYCEDC and HPD in early 2013. Prior to releasing the RFP, the City will meet with a Task Force designated by the Community Board, continuing the partnership with the local stakeholders during the RFP process.
See on mikebloomberg.com
Curated by: Image Werks, LLC