See on Scoop.it – View * Engage * Discuss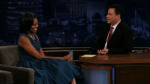 Michelle Obama spent some time in LA yesterday, popping in at a fundraiser at Will Smith's home, then taping an appearance on Jimmy Kimmel Live. Once again she proved how utterly relatable, charming, and funny she really is.
First Lady of The United states of America, Mrs Michelle Obama  on the
But first the clothes. Mrs. O wore a vibrant teal dress that ticked all the usual FLOTUS sartorial boxes. It was sleeveless with a fit-and-flare skirt, and she topped it off with a cool statement necklace of multi-colored beads. No word yet as to who designed the dress, but we'll update as soon as we hear. We also think her makeup artist–who must be working crazy hours in this lead-up time to the election–deserves some bonus pay, because the FLOTUS has been glowing lately, and she looked fantastic on Kimmel. (We must find out her brand of highlighter!)
When Jimmy Kimmel asked her what she would do if she had one hour to be a "regular" citizen, her response was that she would walk over to CVS and "buy my toiletries." I think we can all relate to that one–there's no greater joy than wandering around the drugstore reading deodorant labels. (I'm being serious here. Some of the scent names are hilarious. But I digress.)
Mrs.O also admitted that she sometimes sneaks out in disguises, but that her height often gives her away. Kimmel suggested that since it was Halloween she could probably walk around as Elmo without attracting too much attention, but she admits it's usually a "warm-up and a cap." Again, who can't relate to running some errands in sweat pants and a baseball hat?
Click through to watch part of the sweet interview.

See on fashionista.com
Curated and Published by: Image Werks,  LLC