See on Scoop.it – View * Engage * Discuss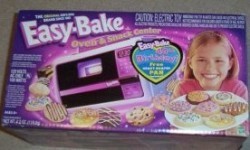 Thirteen year old Mckenna Pope's little brother loves to cook. But when he watches the commercials for a product he's hoping to get for Christmas — the Easy Bake Oven — he only sees girls playing with the toy.Because of that, he believes that "only girls play with it."
And, a child shall lead them. – Image Werks Corporation
Pope is hoping to change that perception with a video and a petition. She is asking Hasboro — maker of the Easy Bake Oven — to start putting boys in their commercials, so that her little brother sees it's okay for boys to cook:
[B]oys are not featured in packaging or promotional materials for Easy Bake Ovens — this toy my brother's always dreamed about. And the oven comes in gender-specific hues: purple and pink.
I feel that this sends a clear message: women cook, men work. […]
I want my brother to know that it's not "wrong" for him to want to be a chef, that it's okay to go against what society believes to be appropriate. There are, as a matter of fact, a multitude of very talented and successful male culinary geniuses, i.e. Emeril, Gordon Ramsey, etc. Unfortunately, Hasbro has made going against the societal norm that girls are the ones in the kitchen even more difficult.
Watch her appeal:
YouTube video available
For a 13-year-old, Pope's assessment is incredibly on-message with what experts understand about the link between confidence and gender stereotypes. Societal reinforcement of traditional gender roles can lead children to doubt their own ability, as evidenced by girls' lack of confidence in mathematics based on their parents' enforcement of gender stereotypes.
Pope's petition has gathered over 18,000 signatures so far.
Tags:
Advertisements; Sexism
See on thinkprogress.org
Commented on ThinkProgress:
Alicia J Alexander · Consultant at Image Werks, LLC · 404 subscribers
It is wonderful that this young girl defends non-sexist
toy marketing
. Yet,
toys
need to be distinguished. In the case where there is an opportunity to for projected career development, toy manufacturers may want to consider non-sexist toy development providing parents and families a choice.
Curated and Published by: Image Werks Corporation