See on Scoop.it – View * Engage * Discuss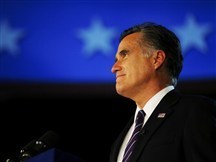 Former

U.S. Republican

presidential candidate Mitt Romney on Monday joined the board of U.S. hotel company

Marriott International Inc.

, in one of his first public moves since his unsuccessful bid to unseat Democratic

President Barack Obama

.
"We will benefit from his tremendous energy and capability to guide long-term success in an increasingly complex business environment," said Marriott executive chairman J.W. Marriott Jr., in a statement. The move marks a return to a post Romney held twice over the past two decades, when he worked closely with members of Marriott family, who share his Mormon faith and have longstanding family ties. Indeed, Willard Mitt Romney is named after J. Willard Marriott, founder of the hotel chain.
Romney, a former private equity executive, served on the Marriott board from 1993 until 2002, when he stepped down before becoming governor of Massachusetts and again from January 2009 to January 2011 before officially kicking off his bid for the presidency.
While his election bid failed, Romney last week made it to White House when Obama invited him for a private lunch. Romney has kept out of the public eye since Election Day on Nov. 6, though he was photographed last month visiting Disneyland in California with some of his grandchildren.
Brothers J.W. Marriott and Richard Marriott each donated $1 million to Romney's campaign, according to Federal Election Committee records.
Tags:
US Business , mitt-romney , marriott-hotels
See on www.nbcnews.com
Curated and Published by: Image Werks Corporation