See on Scoop.it – Small Business Development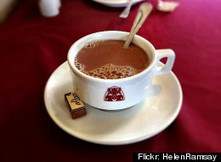 By Kerri Glassman for U.S News Health
The holiday season is in full swing, and we want to indulge! The holiday season is in full swing, and we want to indulge! Many of us look for healthy ways to satisfy our cravings for traditional pumpkin pie and gravy-laden mashed potatoes. But the holidays aren't just about what's on our plate. They are also about what's in our cup! (And no, I'm not just talking about alcohol).
The dry winter weather makes us more susceptible to dehydration, so it's important that we remember to drink enough fluids. Why not hydrate in the holiday spirit by indulging in these traditional favorites: hot chocolate, mulled cider, and chai tea. These drinks are typically high in calories and sugar, but I've provided you with recipes that quench your desires (without being too devilish). Enjoy these treats whether you are solo, hosting a soiree, or having an intimate shindig!
Stay warm this winter and be confident and conscious about your indulgences!
Chai Latte For One
Vanilla chai tea bag
1/2 cup boiling water
1/2 cup steamed, low-fat milk
1/2 teaspoon agave
1/2 teaspoon ground nutmeg
Steep tea bag in boiling water for two to three minutes.
Stir in milk and agave.
Sprinkle nutmeg.
Hot Chocolate for Four
4 cups low-fat milk
1 teaspoon ground ginger
1 teaspoon ground cinnamon
7 ounces semi-sweet chocolate, chopped (about 7 squares)
Combine milk, ginger, and cinnamon in a saucepan over medium-low heat until almost boiling.
Add chocolate, stirring until fully melted.
Whisk until frothy, and serve immediately.
Mulled Cider For Many
1 pear, not too soft
1 orange
1 to 2 tablespoons whole cloves
1 lemon
3 to 5 whole allspice berries
3 to 5 inches peeled, fresh ginger root, cut into 1-inch pieces
1 medium stick of cinnamon
2 to 3 gallons apple cider
Pour cider into a heavy pot, and bring it to a simmer.
Stud pear and orange with cloves.
Peel large pieces of rind from the lemon, and twist each piece to release the lemon oil.
Place fruits and spices in your slow cooker, pour a gallon of cider over them, and heat on high heat for a few hours.
IWC_AJA's insight:
This is a great recipe article to on how to enjoy the Holiday season without alcohol.
Image Werks Corporation is campaigning on…
"Remember Mom."
How to be thoughtful about the cares of your loved ones this Holiday season. The life you influence might just be your own.
See on www.huffingtonpost.com
Curated and Published by: Image Werks Corporation