See on Scoop.it – View * Engage * Discuss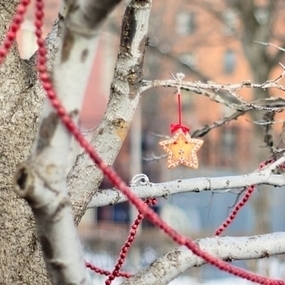 Here are three (completely free) ways to bring back the holiday cheer. Use them today and make it a plan for 2013!
The horrible events in the quaint and quiet community of Newton, Connecticut last week have been weighing heavy on everyone's mind. It made a particularly powerful impact on my family, as we have a first grader the same age as many of the children lost. My wife, an educator herself, has been moved by the heroic stories of the faculty and staff at Sandy Hook Elementary, whose courageous and calm actions in the face of this unspeakable violence saved the lives of many more children.
Today, we are sending humble notes of encouragement to the families in Connecticut. We realize that with the outpouring of support our words may never be read. Regardless, we know how much we would appreciate such a gesture, so we're just doing something we feel is right.
So this got me thinking.
I've spent the past couple of columns talking about sending corporate greeting cards and managing corporate gift giving, all in an effort to maximize the return on your marketing investment. What I overlooked completely and failed to mention were the little investments you can and should make this year (as well as throughout next) that will have an invaluable and immeasurable impact on those who receive them. The best part of these investments? They cost nothing.
So, this holiday season, remember to generously give …
Compliments
When I was young and just starting my career, a manager told me that he had great respect for my work ethic and that he felt I had potential in the company. I still remember the conversation indelibly. His compliment actually encouraged me to turn down head-hunting calls for the next few years as I was promoted through the organization. This one compliment had me hooked and motivated and taught me how inspiring and impactful a well-placed and well-timed compliment can be.
Credit
One of the flattering characteristics many of my role models had was their ability and willingness to dole out way more credit than they received. Even if an idea or accomplishment was theirs, credit was always given to the team or another specific individual. This was a great motivator for me. Even now, as a business owner, I realize that every good idea or strategy is the culmination of many people's efforts and more than likely spawned from inspiration outside my network. Give someone a little credit for a job or an accomplishment, even if it's not completely deserved, and your next big idea may actually come from them.
Courage
In times of stress, people look toward stability. Today, the economy is rocky, the fiscal cliff has everyone on pins and needles, and the terrible events at Sandy Hook Elementary have us questioning the society in which we live. This is the time for leaders to take the stress upon their shoulders and say simply…everything is going to be okay. Whether it's your employees, your friends, or your family, there has never been a more important time to be the rock.
This holiday season will most likely be remembered for the tragic events at Sandy Hook Elementary school. It's inevitable. We can, however, do our best as a community to ease the pain and bring a little happiness back through simple and selfless words. Try it this holiday season, and then make it your goal in 2013!
If you have an inspiring story, please share with everyone in the comments below. We all could use the distraction!
Author Credit:
Peter Gasca is the co-founder of WildCreations.com and Jumpoff.co, companies that focus on kid-related products and support kid entrepreneurs. @wildcreations18
IWC_AJA's insight:
I firmly believe, it is not the item given. It is the honor and respect conveyed. A close inner circle friend can "throw" a gift at you conveying a feeling of less than important. Yet, a distant acquaintances can give to you a present or card conveying respect and value of your existence. Which individual imparted honor and respect? Which of these people said through their action, "You are important?"
This holiday season may we not only convey honor and respect in what we give but also, in how we give. We all want to realize our intrinsic value, let's demonstrate importance to one another in our words and actions.
See on www.inc.com
Curated and Published by: Image Werks Corporation